THE TIRAMISU'
INGREDIENTS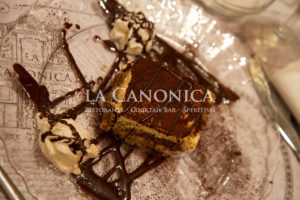 mascarpone 500g
ladyfingers 350g
fresh eggs 5 medium
sugar 100g
coffee 300g
bitter cocoa to taste
PROCEDURE
Separate the egg whites from the yolks - beat the yolks with electric whips by pouring half the sugar until the mixture has become light and frothy - add the mascarpone a little at a time while the whips are running - you will have obtained a compact and dense cream - now beat the egg whites until stiff by pouring the other half of the sugar - pour the egg whites a little at a time with a spoon into the bowl of yolks mixing from the bottom to the other - distribute a spoonful of cream on the bottom of an oven dish - soak the ladyfingers in cold coffee - distribute the ladyfingers in the cream so as to obtain a first layer - cover with the cream and continue to distribute the ladyfingers soaked in coffee - level the surface and sprinkle the bitter coffee on top.
PRESENTATION
Arrange a slice of your Tiramisu on a serving plate and sprinkle some unsweetened cocoa.
TIPS
Good mascarpone requires some research: it must be very fresh, delicate, creamy and balanced by a taste that is neither too sweet nor too bitter.
Strictly bitter cocoa. One of the secrets of a good tiramisu is precisely the contrast of flavors.
Savoiardi and that's it!
Curiosities
Why is it called tiramisu?
But the question we have all asked ourselves at least once is: why on earth is tiramisu called that? It seems that the name is due to its very high energy value; on the other hand, that tiramisu is a calorie bomb is somewhat in the public eye. But there are also those who argue that the name was originally thought of in a more mischievous key, referring to its alleged aphrodisiac effects: thus, just a few spoonfuls of this amazing dessert were suggested to "cheer up" and face the pleasures of the alcove.
Tiramisu recipe
Its recipe is really simple. It is made with ladyfingers, soaked in coffee and arranged in layers alternating with a mouth-watering cream made of mascarpone, eggs and sugar, all covered with plenty of cocoa powder. That's it! No other ingredients and no cooking (except, of course, for the coffee).
#tiramisu #lacanonica #trastevere